Like an antique… light
WITH BRONZE AND CAST IRON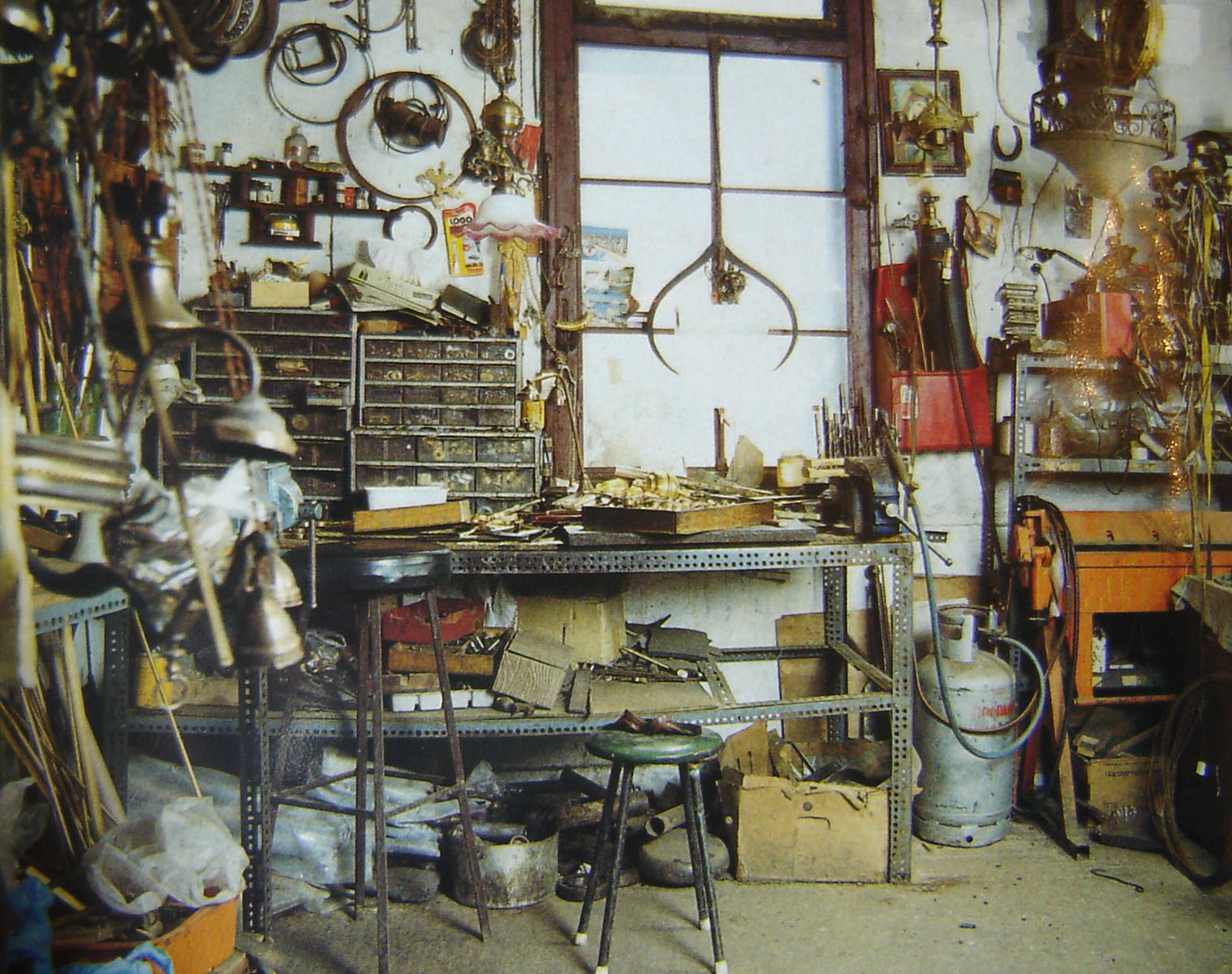 A place from the past: The workshop of Anestis.
A report on our shop by the magazine "Idees kai Lyseis" (Ideas and Solutions, published originally in Greek) in 1990. Since 1978 until today, for 32 years we have been continuing with same love for the antique light.
We are in Athens of 1990 or in the remote Middle Ages, in some blacksmith's workshop from which there came out highly sophisticated masterpieces. We are climbing up the dark and narrow steps of an old two-storey building in the centre of Athens, where time seems to take you back. In a large room, which we got in through an old door that creaks, there is the repair light workshop of Anestis.
Around us shelves with antique light glasses covered with dust, on the benches bronze accessories and tools. On the walls there is no room for another nail. There, some rare piece or accessory will be hung which some time Anestis will retrieve triumphantly in order to be able to repair a valuable antique light.
Two things do not suit this atmosphere of the past : the modern machines (electric drill, hacksaw, etc.) and ……. Anestis! In reality, a young man in blue jeans with a shy look received us at the doorstep who did not suit the picture we expected to see. We expected to see an old craftsman who has been working with cast iron and bronze for around sixty years!
"I like taking apart and reassembling old constructions, I like making from the beginning a piece that is missing, similar to the one destroyed. Doesn't everyone like giving new life to old beautiful things? I have decided to do it as a job."
All the time he is talking to us, he continues working. With his electric drill is opening a hole in a sculptured bronze base. Above his head there is hanging an enormous sophisticated light. "Do you see this? It has been since the time of Napoleon" I recognized it in a painting which showed Napoleon's palace. There was a similar light to this one in the painting.
| | |
| --- | --- |
| The drill is getting into the bronze slowly. | The accessories take shape with the hammer. |
| The hacksaw is ready to cut a pipe. In the background there is a beautiful table light of Anestis. | Oxyacetylene welding is indispensable. There are two modern and an old in the workshop. |

Nowadays, Anestis does not work only with lights that his customers take to him for repair but he has also gathered several antique pieces, he repairs them and his wife sells them at a small shop they have opened in Normanou street, perpendicular to Ermou street, within a short distance downwards from Monastiraki square. "I repair antique lights from gas light era and even further in the past paraffin lamp lights. The most difficult thing to survive is the glass because it is very fragile. That's why glasses have become very expensive now and manufacturers copy them, make new or imitations."
The old crystals in Anestis' workshop may be covered with dust. However, they are carefully placed next to each other on iron shelves. Small and big glasses, for table and wall lights are kept in a small adjacent room which nobody gets in. "Nowadays, I make simple bases of bronze for table lights. They are at lower prices than old bases and they are made with the same technique by hand. So somebody can make use of an old beautiful glass they have been left with and enjoy it on their desk."
It is inconceivable for Anestis to sell new bases for antiques. He can't also understand how it is possible for someone to use new bases in the place of old ones. "Their finish is completely different. Once you see a new bronze work next to an old one and at once you distinguish the difference between them" He says to us.What if somebody can't distinguish the difference? "If it isn't something expensive let them take it if they like it. Nowadays, craftsmen work on bronze with love after all. Are only the old of great value?"
We left the last questions about cast iron. Can this also be repaired? "Until recently, when cast iron broke It could not be repaired." Anestis says. "Nowadays, it can be stuck with a special glue. Of course, if it is necessary, a new mould can be made for casting a new piece. However, because this is a difficult and expensive process, the manufacturing of a new piece can be done only if the piece is of great value."
If you have a valuable lamp from your grandmother which needs repair, Anestis can help you. There is no rush …… . Love for the antiques takes its time and cannot be affected by the style of modern times.
On the walls there are big and small nails from which the most unexpected accessories hang.
Above Anestis' head there is the big antique light that he saw in a painting next to Napoleon.
Roula's small shop full of antique lights.